Elder Ernest Pryor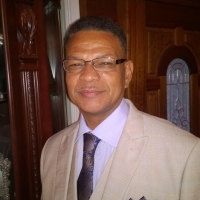 Elder Ernest Pryor
Email: pryor4_foryou@yahoo.com
Elder Ernest Pryor was born in Dudley GA. to the parentage of the late Lee Jordon and Ida Mae Pryor. Elder Pryor is a 1975 graduate of West Laurens High School. He is married to Elder Rosa L. Pryor, and they are the parents of 4 children and 7 grandchildren. They are co-owners of KVN Beauty Academy Inc. a private- owned Cosmetology school located in Dublin Ga. They have successful graduated and licensed over seventy students in the careers of Cosmetology, Cosmetology Instructor and Nail Technician in several states.
Elder Pryor has been employed with S& P Fiber Technology for 25 years. In the year 2005, Elder Pryor graduated from Christian Life School of Theology with an Associate degree.
According to 2 Thessalonians 2:13, Elder Pryor accepted his call of ordination to the offices of the five fold ministry in the year of 1995.
"But we should always give thanks to God for you, brethren beloved by the Lord, because God has chosen you from the beginning for salvation through sanctification by the Spirit and faith in the truth."
He serves along side his wife as Elders under the ministry of Pastor Elgin and First Lady Terrie Dixon at Greater Macedonia Missionary Baptist Church located in Dublin Ga.
The primary motivation of Elder Pryor's ministry is Love. Love should be the motivating force behind everything you do.