Elder Jonathan King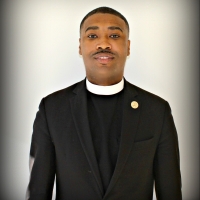 Elder Jonathan King, Executive Pastor
Email: king.jonathan06@gmail.com
Elder Jonathan King was born and raised in McRae-Telfair County. Jonathan attended the public schools of Telfair County, graduating May 2005. He is a graduate of Savannah State University with a degree in Computer Information System. He also earned a Master's of Education in curriculum and instruction from Georgia Southern University. He is a proud member Alpha Phi Alpha Fraternity Incorporated. He is employed by Twiggs County Public Schools.
Elder King joined the Greater Macedonia Missionary Baptist Church on October 8, 2004 under the dynamic leadership of Overseer E. Neal Dixon. He serves faithfully at Greater Macedonia in both Dublin, GA and Helena, GA. Since becoming a faithful member of Greater Macedonia Missionary Baptist Church, Jonathan has worked in several capacities . . . a member of the Music ministry, the Youth ministry and serves as an Armor Bearer to the Pastor. He is currently the Executive Pastor Pastor at Greater Macedonia.
Knowing that there was work to be done, Jonathan answered the call into the ministry June 12, 2005. Understanding that this would not be an easy task, he went against the odds and began to walk in the way of the Lord. He was licensed to preach the Gospel on October 8, 2006. He was ordained on May 25, 2008. Following his dream, Jonathan plans to continue to reach for the stars to make his life exceed beyond limits. Song Artist Israel Houghton best defines Jonathan's motto when he wrote the song "No, Limits, No Boundaries".