Minister Tabitha McRae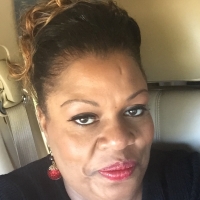 Minister Tabitha McRae
Email: tabithamcrae@yahoo.com
Minister Tabitha McRae is a gifted educator and minister, committed to winning souls for Christ. She ministers to provide God's divine Word to address matters important to salvation, human existence and for practical application. Her focus is always on the Glory of God!
A native of Wheeler County, Minister McRae is married to James McRae and they are the proud parents of three daughters and two grandsons. She has served diligently in ministry under the auspicious leadership of Overseer E. Neal Dixon.
In her formative years, God used her experiences and His teaching to anoint her when she responded to the Lord's calling on her life. After receiving her ministerial license, Minister McRae not only preached the Gospel, but used her prior experience to demonstrate and teach servant leadership to lay-persons and members in order to help the church be a real live body ministry as well as to develop disciples' saved, empowered and equipped to fulfill God's divine-ordained purpose in their life and faith. Minister McRae believes in the transformative power of the Holy Spirit and with God's anointing she ministers to people to experience the fullness of the Holy Spirit's power through redemption, restoration, revelation and demonstration. Her anointing and experience has gifted her with an ability to help the young, new Christians and those seasoned in Christ to prepare for, adapt to and experience transformation spiritually, economically, professionally, and socially in accordance to the Lord. One of her favorite scriptures is "be ye not conformed to this world: but be ye transformed by the renewing of your mind, that ye may prove what is that good, and acceptable, and perfect, will of God."
In addition to her Ed.S Degree from Troy State University, Minister McRae has earned a BS Degree in Business Management and MSc Degree in Guidance and Counseling.